News

1084cc TWIN-CYLINDER ENGINE
The CRF1100L Africa Twin sports one of the best engines ever in an adventure bike. The parallel-twin design is narrow, and delivers torque everywhere from idle to redline. You'll have more grunt down low, and cruise easy on the open road.
PARALLEL-TWIN ENGINE LAYOUT
The Africa Twin's parallel-twin engine layout makes the bike shorter front-to-back. That means the front wheel can tuck in closer to the engine, shortening wheelbase and making the bike more nimble off road and on pavement.
TWIN INTAKES
The Africa Twin uses a unique twin air-intake design with two vertical filtration elements. All that clean air helps the engine deliver excellent performance, even under prolonged operation in dusty conditions.
SIX-SPEED AUTOMATIC DCT TRANSMISSION
Available on the Africa Twin DCT and Africa Twin Adventure Sports ES DCT, this is the transmission of the future. Inside, it's as tough as a conventional manual, with steel gears throughout. You can let it shift for you, or paddle shifters in the manual mode give you full control. Four settings (Drive, Sport 1, 2, and 3) let you pick what's right for your riding conditions.
ELECTRONICALLY CONTROLLED SUSPENSION
The Africa Twin Adventure Sports ES and Adventure Sports ES DCT are equipped with SHOWA EERA® (Electronically Equipped Ride Adjustment) electronically controlled suspension. You can choose between five suspension damper settings: hard, medium, soft, and off-road, as well as a customizable "user" setting. It's easy to switch between them, too, so you can choose one for the highway and another when the going gets rougher.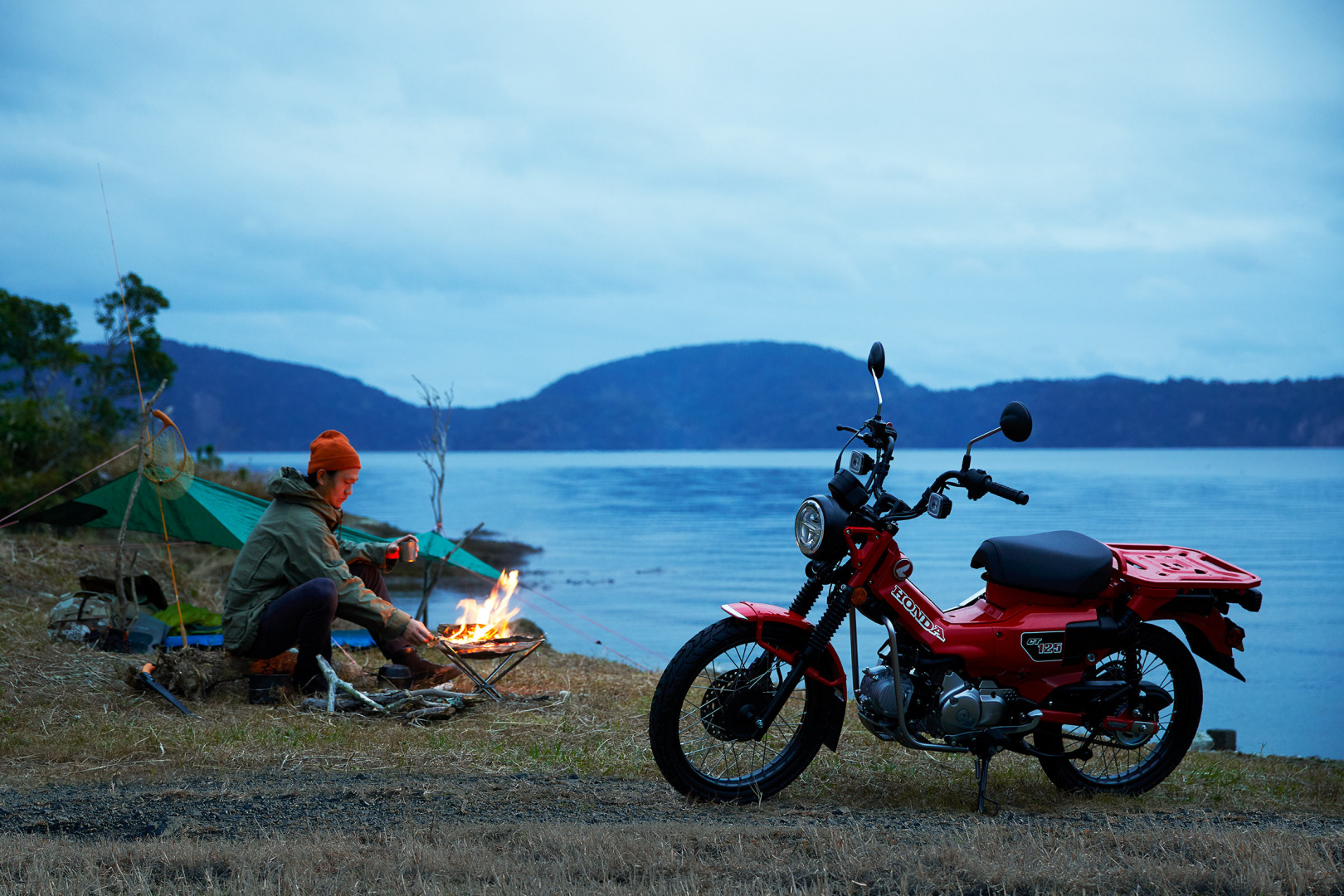 READY FOR ON- AND OFF-ROAD ADVENTURES
The best part of the Trail125 is that it lets you ride so many places. On the street it's a fun, practical commuter. And its light weight, skid plate, spark arrestor and ground clearance make it a joy in the dirt. Plus, since it has a license plate, you can ride it in areas restricted to some off-road-only bikes, like state and national parks.
EASY TO PARK
Because the Trail125 ABS is compact, it's easy to park in the city, to load and unload from a motorhome, and to store when you're not riding. There's always room for a Trail125!!
125cc FUEL-INJECTED ENGINE
Nobody can match Honda's reputation for engines, and even though the Trail125 ABS is relatively compact, it's a giant in terms of performance and reliability. Air cooling keeps it super simple, too.
FOUR-SPEED SEMI-AUTOMATIC TRANSMISSION
The Trail125 ABS features a four-speed semi-automatic transmission you shift with your left foot, like a traditional motorcycle. But here's the unique part: there's no clutch to worry about. Plus, the Trail125's heel-toe shifter makes operation even easier, especially in boots.
HYDRAULIC DISC BRAKES
The Trail125 ABS features a 220mm front single disc brake for excellent stopping power, along with a 190mm rear disc. There's even standard front-wheel ABS.