News
Let's use Enduro comparison tool to see how these bikes compare to each other.
http://bikematrix.net/compare/2013-Kawasaki-KLX250S-vs-2013-Honda-CRF250L/Enduro-Comparison
If you want to compare these bikes using all specification parameters, register for free!
The story of a spiritual biker, who sees the motion of two wheels
As a form of meditation and the spiritual renewal.
We come different roads you and I, but
The most amazing road is the one that leads us through
Open landscapes, beautiful country, songs that are hidden in the grass,
In the wind with chimes… In the sun in which brings out the burning passion
Of freedom of motion, the freedom of exploration…
We live, we ride, we enjoy and we become rich.
Not in the sense of modern riches of the world,
But in the sense that will transcend this lifetime.
We are lucky to discover the art of two-wheeling,
The art of motorcycling,
The art of ever moving to higher spiritual planes…
We live, as we ride, we breath, as we make turns,
With every breath, we make a new turn on the page of our life.
We treasure every moment as we treasure every curve.
We adore the humming of the iron horse heart,
As we adore the art of loving.
We are bikers, we are bringing the change,
We are bearers of the freedom, and we have the responsibility…
We have the responsibility to our little brothers and sisters,
To be patient and brave in order to discover the free roaming spirit
In their hearts and ride with it, and … live with it!
We are the last frontier from which the new world of humankind starts.
The humankind full of brotherhood, sisterhood and all the good things
The Free Roaming Spiring brings in us, evolves in us, our spiritual planes…
We are the new human kind that treasures truth, helping each other, and
A little bit of adventure here and there, withouth which our spirit will fade.
We ride, as we live, we live as we ride, free in our hears and in our minds…
We are bikers, we are explorers, we are adventure seekers,
We are spiritual warrirors!
Our little brothers and sisters are afraid of us, but they are afraid not of us
They are afraid of themselves,
They are afraid of their own freedom roaming sprit who is calling out…
They are afraid of coming out of their matrix of their lives…
They are afraid of happiness and joy that awaits them…
On tarmac.. On rocks… On gravel roads.. On muddy trails.. On forest pathways.
Let's be patient my brothers and my sisters and welcome newcomers with
Open hands and warm hearts as we always do! The change is upon us,
More humans are willing to free their spirits on open landscapes!
Riding through a long way home, I find this wisdom while chatting
With  the First Four Beings of this Planet and share this wisdom I do….
Ride safe, Ride with an open heart and a free mind…
Ride with your Spirit!
The Seeker
If you come across a mistake or a typo in any of our bike profiles and would like to report it, we would be very happy to review it and if the correction is validated, fix it as soon as possible. Our goal is to build BikeMatrix.net into a reliabile information source that all bikers can benefit from. So your feedback is highly valued and encouraged!
Here is how to do it in easy steps:
1. Once the error is spotted, click on the red feedback tab that always is located on the right side of your browser screen.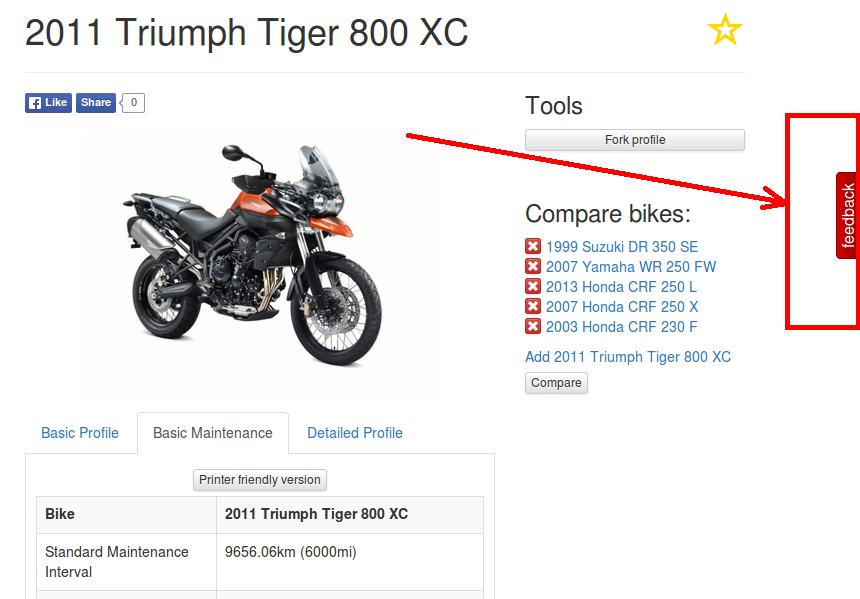 2. Once the dialog window opens, just select "Found an Error" in Subject field and describe the error and specific year and model of the bike.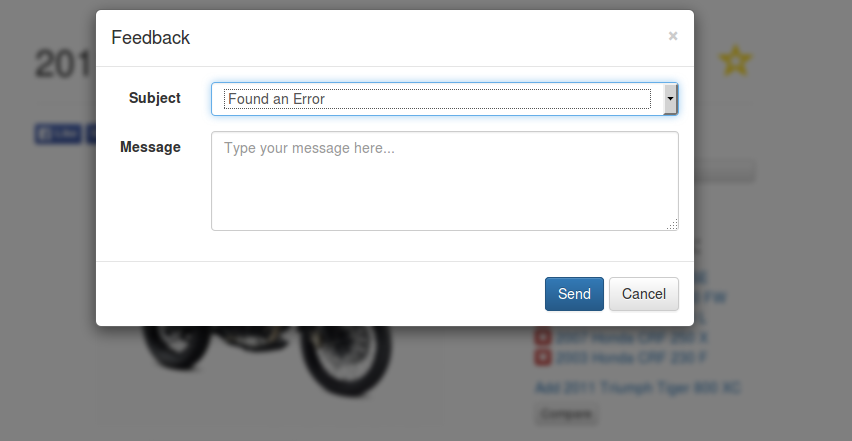 3. Click Send to submit your error.
Thank you!!!